Glow Up Games

is a game studio centering innovative storytelling about black and brown joy.

We build beautifully crafted mobile-first titles for the new gaming majority.

For diverse audiences, we create new worlds of possibility.

Unleash your inner rap star and connect with your inner Mirror B*tch to hype yourself up by building rhymes & verses to express how you feel.
Glow Up Games is founded in the belief of the narrative power of voices outside the mainstream.
CEO Mitu Khandaker and CXO Latoya Peterson  spent the last decade shaping entertainment through innovative applications of technology and distinctive storytelling. By combining our talents, we seek to advance the industry by centering overlooked voices and leveraging new technologies to craft more powerful and playful experiences.
In spite of the changing demographics of our increasingly global audience, there is still far too much we do not know about our player base. The mobile games industry grew to $179 billion in 2020, the AR market is forecast to fetch close to $70 billion by 2023. While women represent at least 52% of the mobile games market, and an estimated 43% of AR/VR device owners, there is frustratingly little known about what women want to play and why. Even less is known about the habits and practices of players of color.
Glow Up Games aims to provide answers.
Glow Up Games uses our backgrounds in technology and our cultural upbringings to create novel experiences. We are dedicated to telling diverse stories because we know diverse stories invite everyone to the table. We are, first and foremost, a game studio and the main thing we create are games.
The R & D side of Glow Up Games incorporates a data driven approach to understanding emergent (and established) markets, to quantifying preferences and tastes of many different types of players, and to publish research on gaming, play, gender, and race that advances the entire field.
As we gather more data about our players and understand their desires better through their engagement with our games, we will grow to being a platform to connect diverse content to diverse consumers through publishing and partnerships.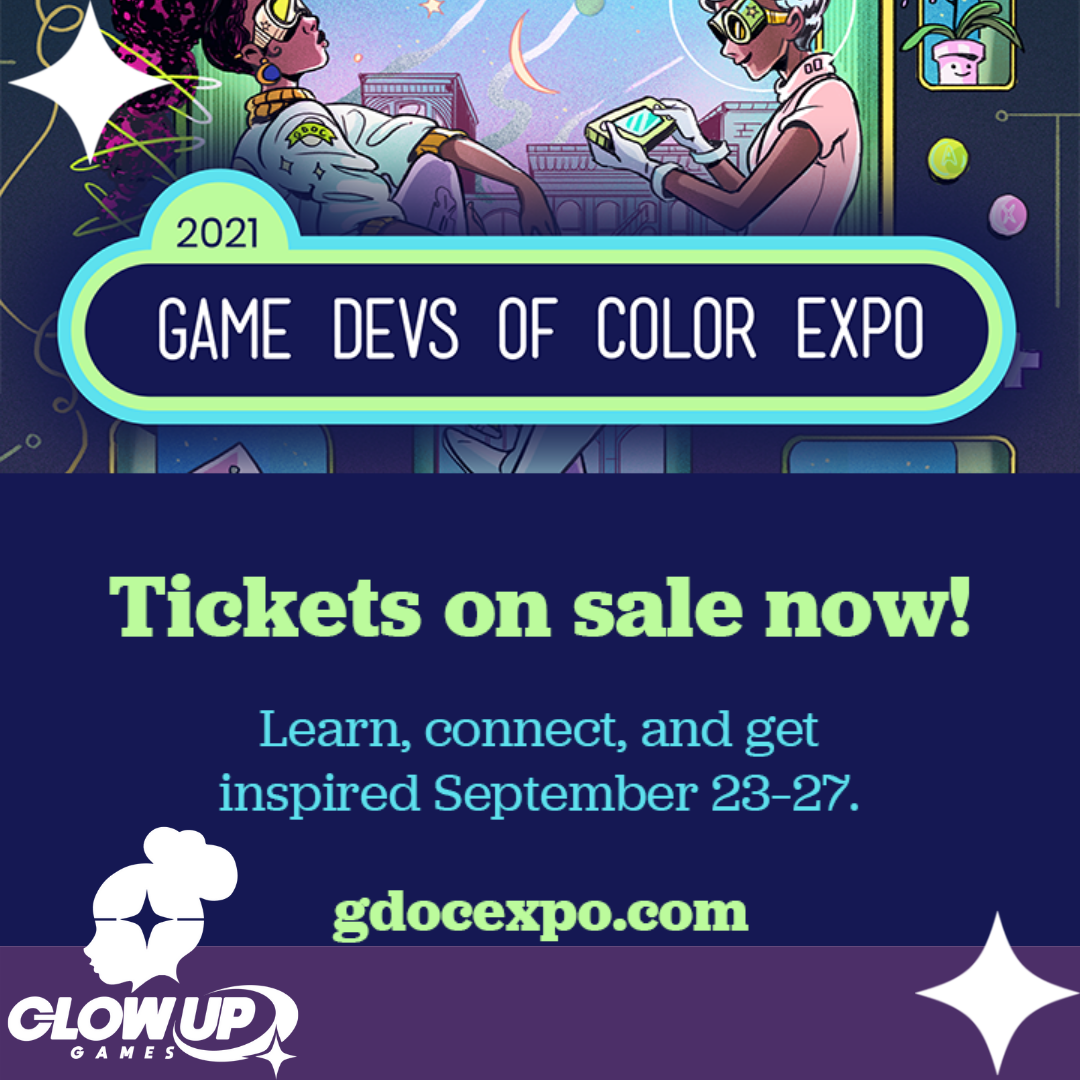 We are official sponsors of GDoC Expo!
Get your tickets today.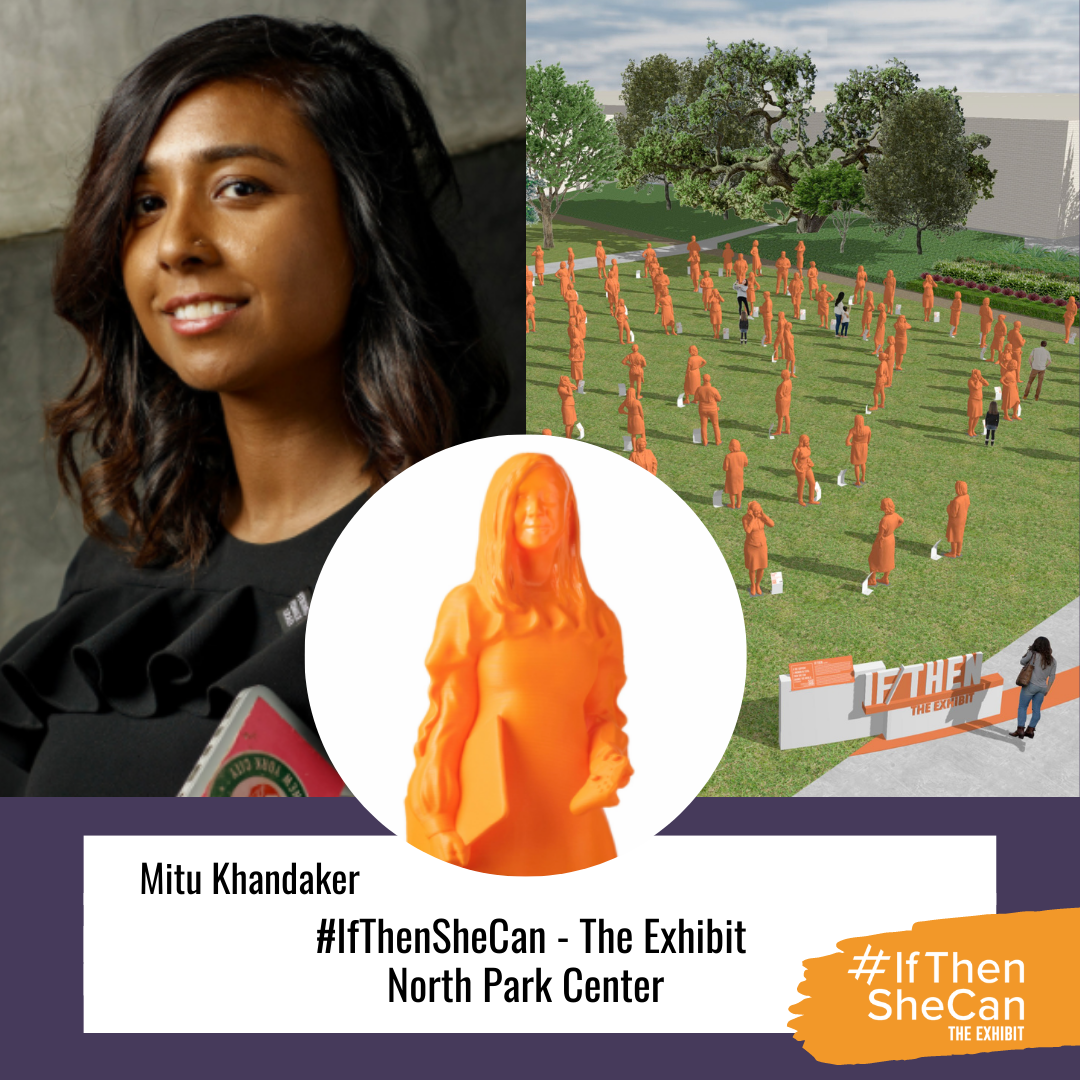 Our very own Mitu is represented in the @IfThenSheCan initiative where she and over 120 IF/THEN ambassadors have life-sized 3D printed statues highlighting #WomenInSTEM at the North Park Center in Dallas, TX!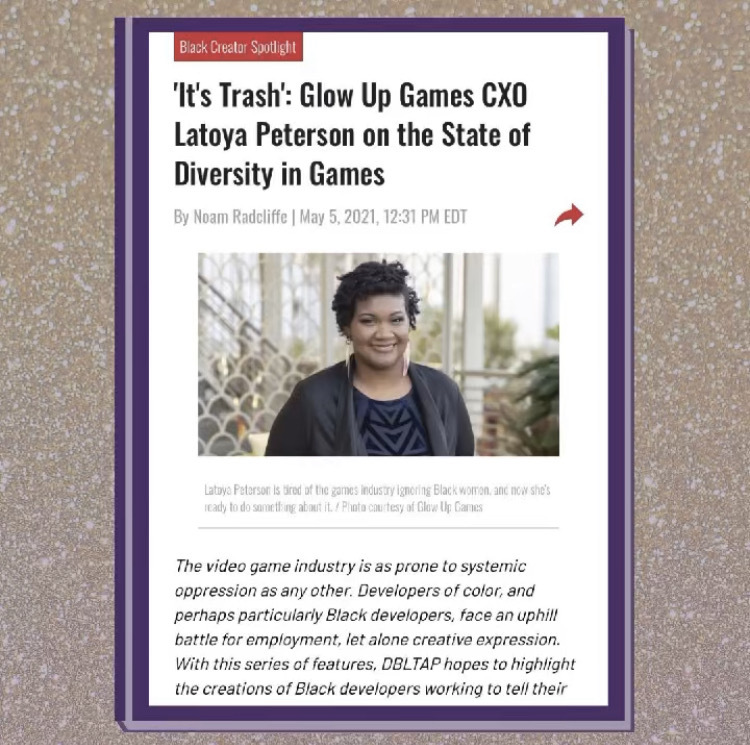 Glow Up Games CXO Latoya Peterson on the State of Diversity in Games and Making Insecure: The Come Up Game
Ahhh I'm back in the UK for the first time in 3 years, omg!!✨😭 Apparently just in time for not ONY this heatwave ☀️🥵 but ALSO for South Asian Heritage Month, where myself & other desi creators are being featured...
@PMWniamh yes! we're currently working on more game features which will bring us out of Early Access & give you more to do in the world, so updates to story have paused briefly while we do that. More soon!
Oh hey! Last summer I was interviewed for a new future-speculating documentary series on @Netflix and as of yesterday it's available to stream NOW, worldwide! Here's the trailer: https://t.co/81frWli7ow 📺📺
I am in #TheFutureOf Gaming episode, obvs! Here's meeeee: ✨🎉...
Dear Gaming brands,
Saving your "Black" budget for Black History Month is so short sighted. There are plenty of Black-run orgs you can also be working with throughout the year to create impact, doing up 'Black History Month' in Feb...
Ahh I'm excited to share this video that @GooglePlay very kindly made where I got to share my story and the story of @GlowUpGames! Please check it out, and of course, you can download @InsecureGame available now in Early Access...
this is your regular reminder: if you're interested in themes exploring code-switching, language-centric game mechanics & ofc BROOKLYN, you should download the wonderful 🥯Crown Delights Deli ☕️ (@BodegaGame) out now for FREE on Steam, for both Win & Mac! https://t.co/RrjERTvlLz
Hi Games Twitter! My name is Jordan Jones-Brewster (they/them), and I've been a Narrative Designer/Writer for the last 5 years! You may have seen my work on @_WeShouldTalk or @InsecureGame, and you *will* see my work on @SaintsRow later this...
Hey yall I'm Geneva and I'm a Narrative Technical Lead at @GlowUpGames!!
I like making gay games and reminding people that anyone can make gay games for FREE 😤😤😤
Also I be coding and rhythm gaming or whateverrr
#WhatAGameDevLooksLike https://t.co/EcgnFnDtS5
I'm Rokashi! I'm a writer over at @GlowUpGames working on @HBO's @InsecureGame and I'm the Creative Director at my own company working on Faraway Fairway for the @Playdate! 💛
I want to see more people like me making games and...
Today's influential woman in gaming is game designer, #DrMituKhandaker!
She is the founder of #GlowUpGames, a gaming company led by women of color, that just released a game based on the show #Insecure!
Thanks, Dr. for your work to expand...
Follow us on social media!
Sign up for our e-mail newsletter and stay informed for what's next on the horizon.